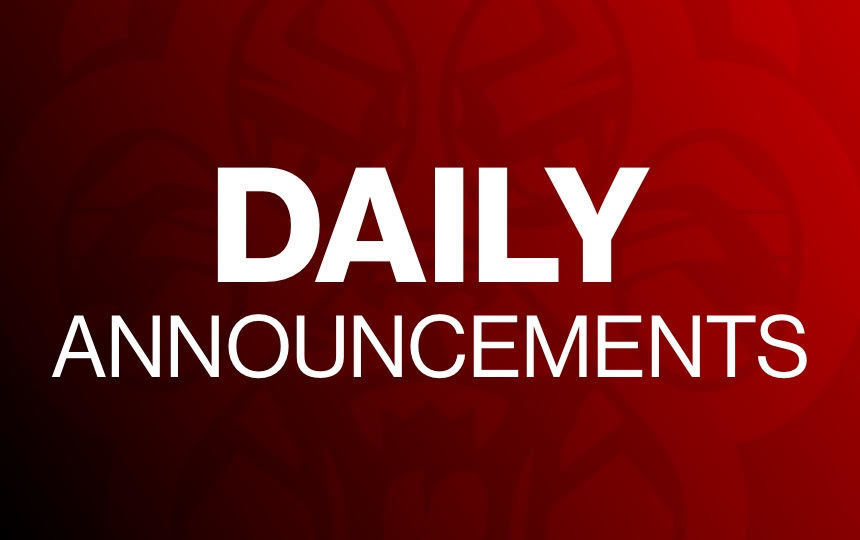 Monday, November 4, 2019
Kimberley Ready
Monday, November 04, 2019
Good Morning Gresham Wildcats,
**Today is Monday, November 4th, 2019
Today is a A day
Announcements for today include:
**Lunch for today is: Sloppy Taco Sandwich or Chicken & Cheese Quesadilla
**Happy Birthday to Kiera & James
**HS Soccer team members will meet (Today) Monday November 4th at 4:15 pm
at school for uniform turn in.
**The MS Boys Basketball games scheduled for (Today) Monday November 4th in Gresham versus Bowler have been postponed. When a new date is finalized we will let everyone know. Boys will practice Today as normal.
**Reminder to all HS student-athletes that finished a fall sports team in good standing
that the Booster Club Athletic Banquet is Tuesday November 5th at 6:30 pm at the Woodland. Student-athletes are free. Any forms can be turned into Mr. Zobeck.

Any boys planning to play HS Basketball this winter there will be a meeting on Tuesday November 5th at 12:15 pm in Mr. Zobeck's room. Also, open gym tonight from 5-7pm
**Jr high girls open gym will be this Saturday from 9am-10am November 9th.
**If you are interested in playing a part in the Gresham Theaters presentation of "Chasing Charming" please come to the auditions on (Today) Monday or Tuesday, November 4 & 5 from 3:45-5:00 pm in Mrs. Easters Room. If you are unable to attend please see Mrs. Easter.
**Do you ever ask yourself questions like: Why do I need to study ancient
Egypt? I don't ever plan to build a pyramid. And why should I study the life
cycle of a butterfly? How will that ever make a difference in my life?
Now think about this Japanese wisdom:
You can't see the whole sky through a bamboo tube.
In other words, without an education, we can see only a small part of the
world around us. Education gives us a panoramic view. Education
broadens our way of looking at the world so that we become bigger, better,
and wiser human beings.
Today, with everything you learn, think about how it gives you a bigger
picture of life.
**With something to think about, Make it a great day...or not. The choice is yours.