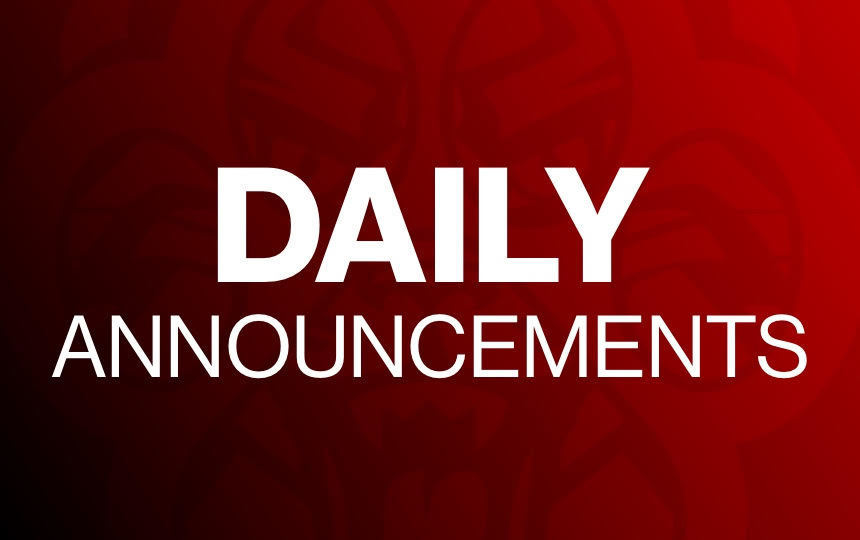 Wednesday, November, 13th, 2019
Kimberley Ready
Wednesday, November 13, 2019
Good Morning Gresham Wildcats,
**Today is Wednesday, November 13th, 2019
Today is a A Day
Announcements for today include:
**Lunch for today is: Cheese Pizza or Hot Ham & Cheese Sandwich
**"Attention Junior and Senior High school students: Please take a moment to double-check your email inbox this morning. Due to our unscheduled day off last Wednesday, detentions have been rescheduled for today in two different rooms. Make sure that you report to the correct place after school.
**No honors study hall (tomorrow)Thursday, November 14th, from 9:45-11:15.
**There is only a half day of school; Tomorrow, November 14th.
Students will be released at 11:10 AM; with parent/teacher conferences to
follow at 12 till 4 PM.
**There is NO School Friday November 15th, 2019
**Caring Community Cards were given too:
Jemy, Kiera, Samuel, Ciara Gabe, Juanita, Bill, Rhylie,
Saleighs, Brayden, Trentyn, Reese
**November is referred to as Native American Heritage Month.
Email Mr. Haffner; your answer & first student to correctly answer gets a treat.
**Today's question is:
**3. Although not a traditional Native American dance, what song is usually played
as a separate event at inter-tribal powwows before the beginning of the pow wow?
**Yesterday's Answer was: 563 ...There was no one who had the correct answer.
**Jr high girls open gym this Saturday, Nov. 16, @ 9am-10am.
**Reminder to all MS Boys Basketball, HS Boys Basketball & HS Girls Basketball
players to be selling Gresham Basketball clothing. All orders are due to Mr. Zobeck by Monday, November 18th. See Mr.Zobeck with question.
**MS Boys Basketball players please be at school tomorrow;
Thursday, November 14th, by 3:30 PM for your games
versus Tigerton all 3 teams will be playing.
**Reminder to all FFA members to be selling fruit order are due
Tuesday November 26th. to Mr.Zobeck.
**Marian Wright Edlman is a nationally recognized educator and child
advocate. She has made a huge difference in the lives of thousands of
children and educators.
**Now listen to what she has to say about making a difference:
We must not, in trying to think about how we can make a
big difference, ignore the small daily differences we can
make which, over time, add up to big differences....
**So if you should ever find yourself feeling powerless to change the world
around you, remember this: Every day we have many opportunities to
support, love, and encourage others, and each time we do, we make a
difference in the world around us because small things, over time, add up
to big things.
**With something to think about, Make it a great day... or not. The choice is yours.