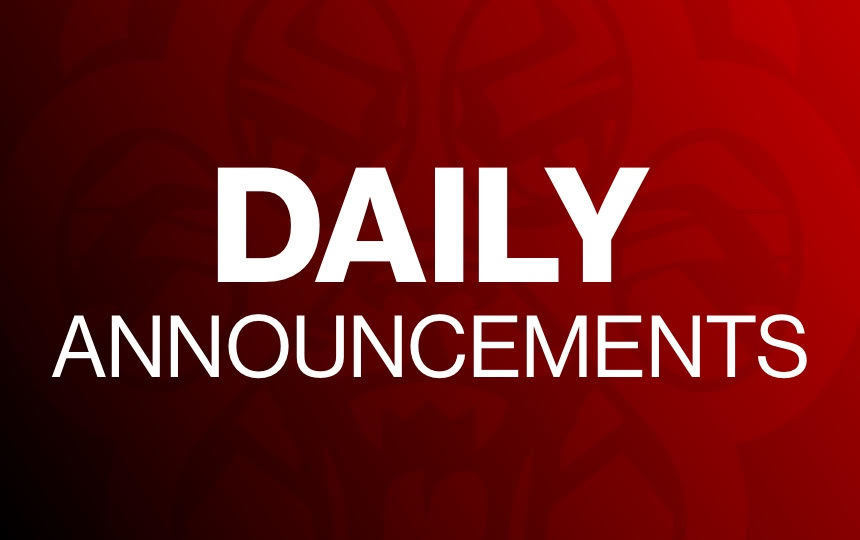 Thursday, November 14th, 2019
Kimberley Ready
Thursday, November 14, 2019
Good Morning Gresham Wildcats,
**Today is Thursday, November 14th, 2019
Today is a B Day
Announcements for today include:
**Lunch for today is: A Sack Lunch
**Please direct your classes to the lunchroom before they are dismissed for the day.
**No honors study hall, (Today) Thursday, November 14th, from 9:45-11:15.
**There is only a half day of school; Today, November 14th.
Students will be released at 11:10 AM; with parent/teacher conferences to
follow at 12 till 4 PM.
**There is NO School (Tomorrow) Friday November 15th, 2019
**Picture RETAKE is Thursday,November 21st, 2019

**November is referred to as Native American Heritage Month.
**Email Mr. Haffner; your answer & first student to correctly answer gets a treat.
**Today's question is:
**4. What is the name of the dance where traditionally all the dancers
are brought into the arena?
**Yesterday's Answer was: The Gourd Dance. No one had the correct answer.
**Jr high girls open gym this Saturday, Nov. 16, @ 9am-10am.
**Reminder to all MS Boys Basketball, HS Boys Basketball & HS Girls Basketball
players to be selling Gresham Basketball clothing. All orders are due to Mr. Zobeck
by Monday, November 18th. See Mr.Zobeck with question.
**MS Boys Basketball players please be at school today,
Thursday, November 14th, by 3:30 PM for your games
versus Tigerton all 3 teams will be playing.
**Reminder to all FFA members to be selling fruit orders which
are due...Tuesday, November 26th. to Mr.Zobeck.
**We all want to have nice things, and many of us want to improve our
standard of living someday. That's all very normal, but some of us can
never seem to get enough. No matter how much we have, we want more,
- more clothes, more money, more house. When we always want more,
we are never satisfied with what we have. We stay unhappy and frustrated.
**In Mexico they say it this way:
The person who wants it all will lose it all.
(El que todo lo quiere todo lo pierde.)
**Why? Because when we are always wanting more, more, and more, we
lose our ability to be happy with what we have.
**Today adopt a "gratitude." Make a list of the things you are grateful
for. Then instead of focusing on what you don't have, you'll focus on what's
good and wonderful in your world.

**With something to think about, Make it a great day... or not. The choice is yours.