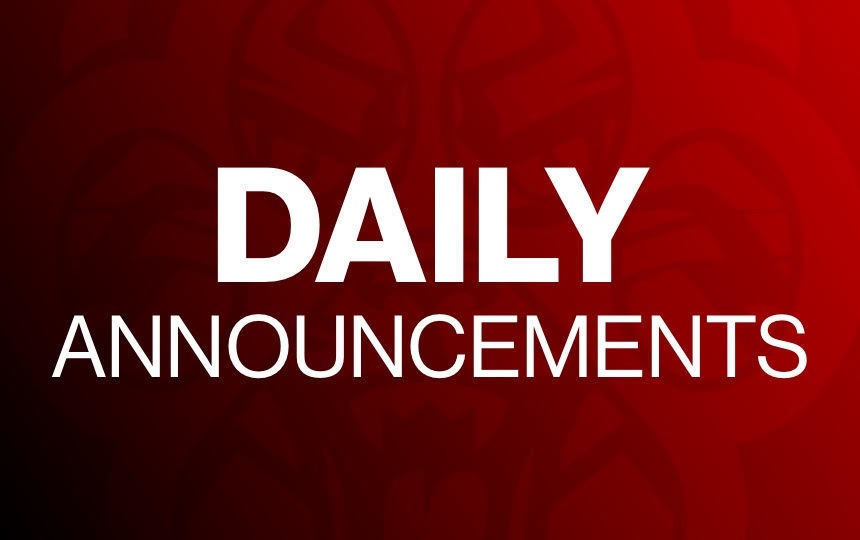 Monday, December 2nd, 2019
Kimberley Ready
Monday, December 02, 2019
Good Morning Gresham Wildcats,
Today is Monday, December 2nd, 2019
Today is a A Day
Announcements for today include:
**Lunch for today is: Hamburger on a bun or Crispy Chicken Sandwich
**Happy Birthday to Mea Buettner
** Jostens rep will be here this morning, Monday, December 2nd at 8:10 AM
to talk with the seniors. This is a mandatory meeting and it should not
last all hour...20-30 minutes.
**November was referred to as Native American Heritage Month.
You were to Email Mr. Haffner; your answer.
**Tuesday's Answer (before break) was: Clockwise... Winner is: Kaidyen Zaitz
**Come out and support the Gresham Wildcat Athlete's:
**Middle School Jr High Boys play @ home against Bowler @ 4 PM
**MS Boys Hoops pictures right after school today prior to their home game.
**HS Boys Hoops pictures at 5:30 pm prior to practice at 6-7:30 pm.
**FFA Blue & Gold Night tonight from 5-7 pm in the Foods Room
**All FFA Fruit orders are due today to Mr. Zobeck
**Have you ever wanted to accomplish something, but you simply didn't
know where to begin? Maybe the task seemed impossible, or it wasn't clear
how to accomplish the goal.
**Now listen to these words from Saint Francis of Assisi (us SEE see):
Start by doing what's necessary, then what's possible,
and suddenly you are doing the impossible.
**If you have a problem you want to solve or a goal you want to reach, start
today. Start now. Make a list of what you know you can do, and then make
a list of what you think you can do. Break the job down into parts. Ask for
help when you need it. Take one step at a time, and before long, what seemed
impossible won't seem so difficult anymore.
**With something to think about, Make it a great day... or not. The choice is yours.