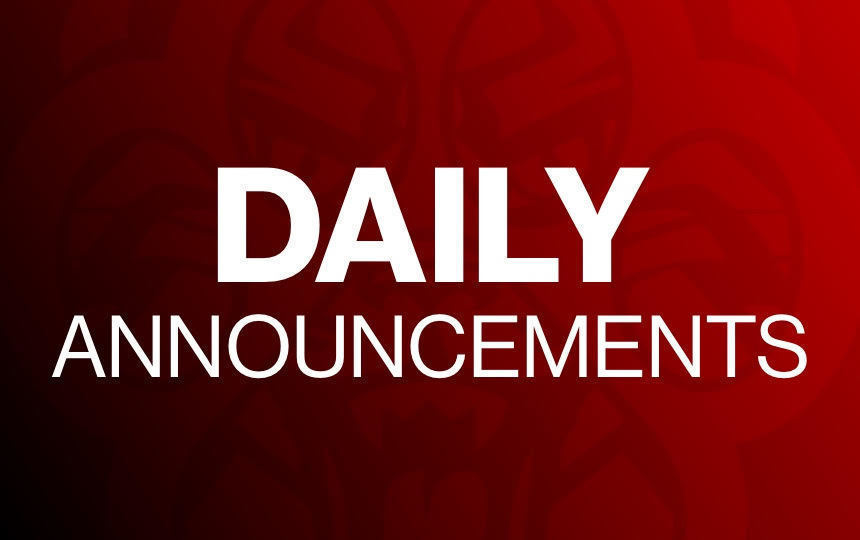 Tuesday, September 15, 2020
Kimberley Ready
Tuesday, September 15, 2020
Good Morning Gresham Wildcats,
Today is Tuesday, September 15th, 2020
Announcements for today include:
***Today is a B Day
**Happy National IT Professional Day to Mr. Dieck! Thanks for providing the staff and students with all the technical equipment and knowledge to be successful here at Gresham Community School.
Also Happy National Online Learning Day to all!!!
***Lunch is: Mini Corn Dogs or 7 Layer Salad
***Breakfast for Wednesday is:Banana Chocolate Loaf w/cheese stick
***Middle school girls playing volleyball; practice is after school
***High school girls have a game @ Wis. Valley Lutheran
Varsity plays at 7:00 the bus leaves at 5:15 PM
***There will be No JV game also players be at school by 4:45 PM
"Attention 6-12 Students,
Today, during 9th hour you will work on taking the i-Ready diagnostic for reading and math. Bring your pencil and earbuds/earphones to 9th hour.
It is important to do your best on the i-Ready. We need to know where you are in your learning so we can best meet your needs. If you rush or work carelessly, the information will be invalid and you will be frustrated. Thank you in advance for working hard and doing your best on these diagnostics. Mrs. Graper"
Here are a few words of wisdom:
Dr. Ruth Simmons was the daughter of poor African-American farmers.
Listen to what she has to say to us today:
I grew up in [a way] that really should have [kept] me from
being here today, but I knew my mind could take me anywhere.
And her mind did take her to many exciting places. She grew up and
went to Harvard University, and later became the president of one of the most
expensive colleges* in the nation.
Today, remember Ruth Simmons' words: Your mind can take you
anywhere. The question is: Where do you want to go in life? What are
your goals and dreams? Write them down and share them with someone
who encourages you to be your best.
With something to think about, Make it a great day....or not. The choice is yours.