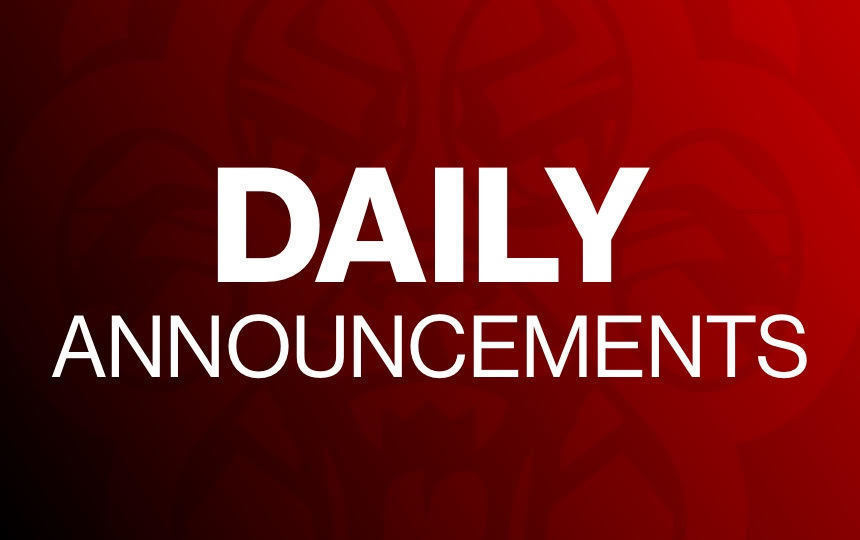 Friday, February 19,, 2021
Kimberley Ready
Friday, February 19, 2021
Good Morning Gresham Wildcats,
Today is Friday, February 19, 2021
Announcements for today include:
Today is a B Day
***Happy Birthday on Saturday to Brady
***Happy Birthday on Sunday to Robert
***No 10th hour for today
***Regional Champion shirts order needs to be in by Noon today.
***High School Girls Basketball had a great season although the Lady Wildcats
lost to Three Lakes; Valarie had 16 points, Chloe had 8 points
and Hannah added 7 points. Great season with Conference Title and also Regional Championship. Way to Go Lady Wildcats!!!
***Student Council will meet today during 9th hour in Mrs. Brockman's room
all members are required to attend.
***Any Varsity Boy Hoops player looking for extra tickets for tonight's
game see Coach Zobeck ASAP this morning.
***HS Varsity Boy Basketball play at home vs. Tigerton @ 7 - Regional Final
***Breakfast for Monday is: Pancakes with a sausage patty
***Lunch for Monday is: Fish Sticks or Turkey Ranch Wrap
***Junior High volleyball starts practice on Monday, Feb. 22nd right after school.
If you have any questions. Please see Mrs. Cerveny.
***High School volleyball starts practice on Monday, Feb. 22nd at 4:45.
Meet in the new cafeteria. If you have any questions, please see Mr. Wild
***Here are a few words of wisdom:
Everyone has times when he or she struggles to understand something,
whether it's a classroom lesson, a job that needs to be done, or a choice
that has to be made. Struggle seems to be a part of life. When we are
struggling we are trying as hard as we know how to do something that s
difficult for us.
Now listen to these words from Fredrick Douglass:
If there is no struggle, there is no progress.
In other words, a struggle is a chance to break a barrier, to turn
a stumbling block into a stepping stone. If you're struggling with
something, remember, you don't have to struggle alone. Believe it or not,
your teachers and counselors have had some experience with struggling.
Talk to them. They want to help.
**With something to think about, Make it a great day....or not. The choice is yours.